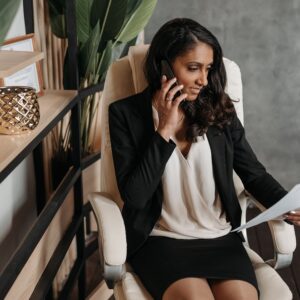 Need advice? Call us at +33 1 49 26 90 50
The agency
Who is GLAMAPARIS?

GLAMAPARIS is a management and rental agency of high end furnished apartments located in Paris. The agency manages about thirty apartments selected according to demanding criteria, mainly around the 6th district.We rent apartments for short term, mainly for an international clientele.

What are the services offered by GLAMAPARIS?

My Apartment in Paris is a rental and management agency of furnished apartments. We act as an interface between tenants and property owners to facilitate the rental process.

To the owners, we offer:

a highlighting of your property with quality photos and videos,
a wide diffusion of your ad, especially on platforms like VRBO or Airbnb,
a quick payment of the rents,
a maintenance in good condition of the apartment, whether it is during the presence of tenants or without, thanks to our maintenance team and our partner building companies,
a consulting role in case of reflection on your part on the renovation or decoration of your apartment.

To the tenants we offer:

help in finding the right apartment according to your needs (rooms, surface, geographical location…),
a welcome at the time of your arrival in the apartment,
a role of unique interlocutor during the rental period, in particular in case of problem in the apartment,
a cleaning service carried out by employees of the agency with eco-responsible products,
a concierge service that ranges from changing linens to transportation from the airport to your apartment.

How to contact us?

You can contact us directly by phone at 01 45 44 54 97 from France or +33 1 45 44 54 97 from abroad. Our team will be happy to answer all your questions.
You can also send us a request directly via the booking form of the apartment if you are interested in it. To do this, go to the list of apartments we offer for rent. Finally, the button below allows you to directly access our contact form. Do not hesitate to reach us!

In which districts are situated the apartments managed by GLAMAPARIS?

Since its creation in 2008, GLAMAPARIS has always focused its attention on the most touristic areas of Paris, mainly those along the Seine. This is why most of our apartments are located in the 6th, 7th, 1st and 4th arrondissements.

What types of apartments are managed by GLAMAPARIS?

We are specialized in holiday rentals and management of furnished apartments in Paris. It's even in the name of the company (GLAM = Gestion et Location d'Appartements Meublés à Paris)! The apartments we manage are usually of good size, with at least two bedrooms and decorated with care.

These apartments are most often the main residence of the owners but they can also be commercial premises used for hotel accommodation.

What does the term "exclusive management" mean?

Nearly all of the apartments we offer for rent are managed exclusivel. This means that we are the only ones to handle the management of these apartments. This is an additional comfort for the owners who have only one mandated representative to ensure the rental and maintenance of their property.

What is the difference between a two-room, three-room or four-room apartment?

The number of rooms in an apartment is calculated from the total number of liveable rooms (living-room, bedrooms, offices, libraries…). The kitchen, bathroom and toilet are not counted.

In almost all cases, a two-room apartment will have a living room and a bedroom, a three-room apartment will have a living room and two bedrooms, etc.

Does GLAMAPARIS offer apartments for sale?

We are specialized in the rental of furnished apartments in Paris. We do not act as an intermediary in transactions. However, we can of course advise and direct our owners to one of our trusted partners for the sale of their apartment. Do not hesitate to contact us if you need more information.
Tenants
What to know before renting
What is the high season? Low season?

The prices of the rentals are conditioned to the seasonality. During the high season, rates are higher because this is the period when Paris receives the most tourists. We consider that the high season extends from April to October, to which we add the second half of December.

The months from November to March constitute the low season.

Is it possible to cancel my reservation?

It is entirely possible to cancel a reservation. However, depending on when you decide to cancel, the applicable refund conditions may vary:

cancellation more than 45 days before arrival: full refund,
cancellation between 30 and 45 days before arrival: partial refund of 50%,
cancellation less than 30 days before the arrival: no refund will be granted.

Each rental made with GLAMAPARIS includes a cancellation insurance with our partner Trustiway. This insurance allows you to obtain a full refund of your reservation if your cancellation is justified by a proven medical reason, including COVID.

You will find the conditions here.

What documents do I need to provide to rent an apartment for a short period?

In the event of a tourist or short-term rental, we will request a copy of the ID or passport of each occupant of the accommodation.

Do I have to pay a deposit?

Depending on whether you book on our website or on a platform (Airbnb, VRBO), the process is different. The platforms oblige the tenant to pay 100% of the total amount upon reservation. If you book through GLAMAPARIS, you will be asked to pay a deposit of 50% of the total amount, the rest must be paid at least one month before the arrival.

When is a rental confirmed?

A rental will be considered as being confirmed when the tenant has paid the down payment indicated in the rental contract.

Do I have to pay a security deposit?

In addition to the rent for your stay, you will be asked to pay a civil liability insurance covering the damages caused during your stay (within a certain limit). Therefore, no deposit is required.

How much are the agency fees?

Agency fees may vary depending on the apartment and also on the season. In general, it is necessary to count 15 to 25% of the rent.

Who will welcome me the day I arrive?

We will welcome you personally upon your arrival to show you the apartment and provide you with any advice you may need regarding your living space or your visit of Paris. It will be the same when you leave the premises. Moreover, we will be your only contact throughout your rental period.

What is an inventory of fixtures?

It consists of a document established in a contradictory way between the owner (or the lessor) and the tenant of an apartment. The inventory of fixtures of entry as well as the inventory of fixtures of exit will be confronted at the end of the lease, which will allow to determine if the occupant of the accommodation deteriorated the place during its occupation.

Who pays electricity and gas?

Electricity and gas will always be at the expense of the owner.

Do you provide linen? A cleaning service?

When you arrive at the apartment, everything is ready for your comfort, both in the rooms and in the bathrooms. However, it is possible to request a change of sheets and towels during your stay. Depending on the length of your stay, this may be included by default.

Similarly, you can ask for a cleaning to be done at any time during your stay.

Are pets allowed?

We don't accept pets in the apartments.

Do I have to sign a residential lease? What does it consist of?

A housing lease must be established in writing, as it is required by the law.

The contract will list the rights and obligations of the landlord and the tenant. The contract will stipulate information on the identity of the parties, the start and end date of the lease and its duration. It must also indicate other information about the dwelling, such as its surface area, the number of rooms, the equipment for private and common use, the amount of the agency fees and the rent. Finally, it must define the specific clauses of the contract.
Renting process
Who do I contact in case of equipment failure or problem during my rental?

We will ask you to contact us directly and primarily if a problem arises during your rental.

We will provide you with an emergency number that you can call every day of the week in case of a problem.

How can I reach the agency in the evening/weekend, in case of emergency?

When renting an apartment with us we will provide you with a mobile number where you will be able to reach us in case of emergency, even on weekends.

How can I request a cleaning service during my rental? What are the rates?

We pay particular attention to the quality of the cleaning in our apartments, which is why we work exclusively with cleaners who are employees of our agency.

To learn about the price of these services we invite you to contact us directly.

Can I pay my rent by credit card?

The payment by bank transfer is the favorite method of payment by our tenants. However, we can also offer credit card payments if you wish. Additional charges may however be applied.

Who pays the housing tax?

As almost all apartments are the main residences of their owners, they are the ones who have to pay the housing tax.

What is the tourist tax?

When tourists or visitors stay in an accommodation for a short period of time, they have to pay what is called the tourist tax. The tourist tax is a compulsory tax that must be paid by any person staying in a tourist accommodation. As an indication, the amount will be proportional to 5% of the cost of the night before tax with a limit of 5€ per night and per adult person.

Can I pay my rent by check?

Personal checks are not accepted for the payment of rent. Only cashier's checks will be accepted but only under certain conditions. The easiest way to pay a rent remains a bank transfer.
Owners
How long can I rent my apartment?

If it is your main residence, you can rent your apartment for a maximum of 120 nights per year. If it is a commercial premises used for hotel accommodation, there is no limit. Please note that if this is the case, your apartment must be registered as such with the Paris City Hall.

Can I rent out my secondary residence?

It is impossible to rent a second home in Paris for a short period of time, unless you take certain steps. A declaration must be made to the city hall to request a change of use of the apartment to commercial premises used for hotel accommodation.

How to register with the Paris City Hall? Why do I need to register?

The registration of your furnished apartment will be mandatory when you rent your apartment for short stays. Please note that this type of activity is highly regulated. You can make the procedures online on the Paris City Hall website.

What are the differences between primary and secondary residences?

The main residence is the residence in which you live the majority of the time (at least six months in the year). It is your fiscal residence which appears on your tax return and which is used to calculate your housing tax. A secondary residence is occupied less regularly.

The difference is important, especially in the case of short-term rentals. The rules are much stricter when it comes to renting a second home compared to renting out a primary residence. For more information on this subject, you can consult our page dedicated to holiday rentals in Paris.

The apartment is my main residence. Can I rent it for a short time?

This is one of the conditions for a landlord to have the right to rent his apartment for a short period of time. You will henceforth be limited to 120 days per year. For more information you can also read our dedicated page about this topic or contact us by email or phone.

Who pays the tourist tax?

It is the tenant who pays the tourist tax. This is a compulsory tax that must be paid by any person staying in a tourist accommodation. As an indication, the amount will correspond proportionally to 5% of the cost of the night excluding taxes, with a ceiling of 5 € per night and per adult person.

Do I have to declare my rental income to the French tax authorities? Who takes care of it?

When you earn income from the rental of an apartment, it is always taxable. You must therefore declare them. Depending on your income from this activity, the tax system may be different:

If your rental income is less than €72,600 before tax, you have the choice between two tax regimes:

the micro BIC regime in which you declare this income on the complementary income tax return " professions non salariées " n°2042 C Pro, line 5ND,
the real regime in which you declare this income on the professional declaration n°2031-SD ("Bénéfices Industriels et Commerciaux").

If your rental income exceeds €72,600 before tax, you must declare this activity on the Guichet Entreprise website or at a CFE (Centre de Formalité des Entreprises) in order to register it in the SIRENE directory. In fact, the amount of these receipts will have to be reported :

on the professional declaration n°2031-SD ("Bénéfices Industriels et Commerciaux"), you will then have to fill in the frame E of the annex n°2031 ter,
on your supplementary income tax return n°2042 C Pro under the heading "income from non-professional furnished rentals".

For more information about the declaration procedures, you can consult the dedicated page on the website of the Ministry of Economy (in french).

Which diagnosis are mandatory for the rental of my apartment?

Six diagnosis are mandatory to rent a furnished apartment:

Lead
Asbestos file and private parts (DAPP)
Electricity and gas
Measurement (Boutin law)
State of risks and pollution (ERP)
Energy performance (DPE)

What equipment is required to rent my apartment?

The list of mandatory furniture and equipment that a furnished apartment must have is defined by law:

Bedding with duvet or blanket,
Shutters and curtains in the rooms,
Cooking plates,
Oven or microwave,
Refrigerator,
Freezer or refrigerator freezer compartment with a maximum temperature of -6°C,
Sufficient tableware for the occupants to eat,
Kitchen utensils,
Table,
Seats,
Storage shelves,
Luminaires,
Housekeeping equipment adapted to the characteristics of the accommodation (vacuum cleaner if there is carpet, broom and mop for tiles …).

I want to do some work in my property. Can GLAMAPARIS help me?

Thanks to our 15 years of experience in renting apartments, we have been able to establish links with construction companies. Therefore, we are able to meet your needs for possible work in your property. Furthermore, we are in contact with companies specialized in renovation and decoration who will be able to bring you their advice to enhance your apartment.

Who takes care of the maintenance of the apartment?

In the vast majority of cases, our agency will be in charge of the maintenance of the apartment.

A machine in my apartment needs to be repaired or changed. Who takes care of it?

When a tenant tells us that a machine in your apartment is malfunctioning, our maintenance team will get it back in working order. If it needs to be replaced, we will contact you and offer you several options, according to your taste. Once this is done, we order the machine and install it.

Does the agency establish an inventory of fixtures at the entrance and exit of the tenant?

A lease contract as well as an apartment inventory and inventory of fixtures will be signed for all rentals.

Who is in charge of welcoming the tenants? And their departure?

We are the managers of the properties that we publish on our website, which implies that we welcome the tenants to present them the apartment and establish the inventory of fixtures at the entrance, but also at the time of their departure when it is a question of carrying out the inventory of fixtures at the exit.

Does GLAMAPARIS take care of the cleaning between rentals?

Between each rental, the apartments we manage are completely cleaned by our cleaning team. These households are moreover carried out using natural products respectful of the environment.

How does the agency pay the rent for my apartment? How do I know what I have been paid?

All your rents will be paid by bank transfer, you will receive a statement which will be emailed to you for each rent payment.